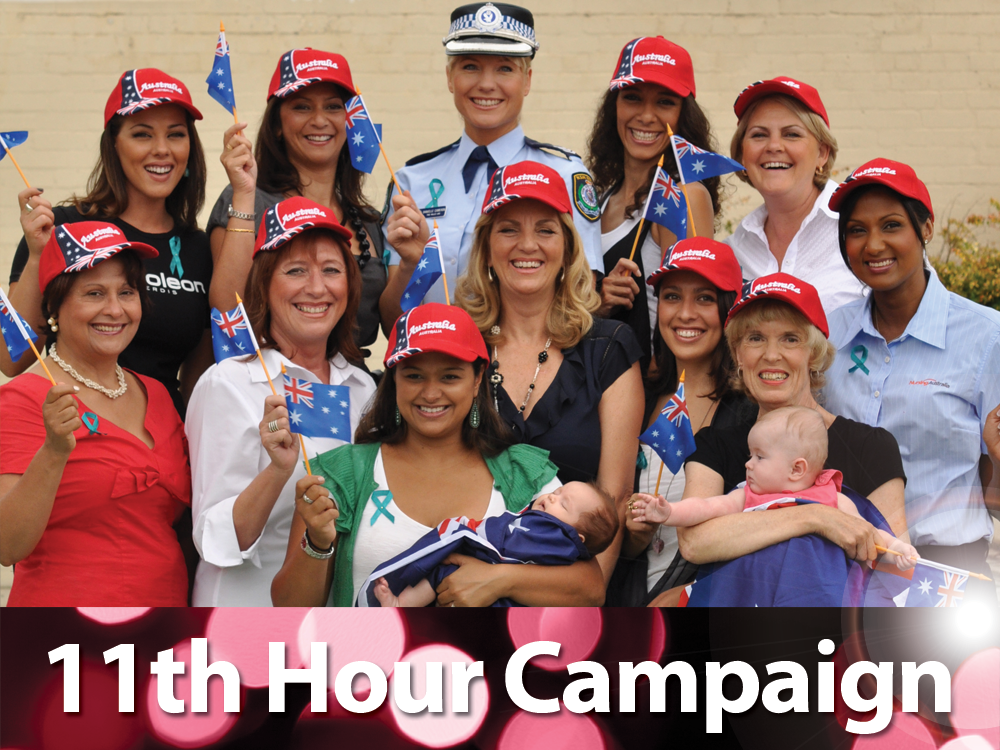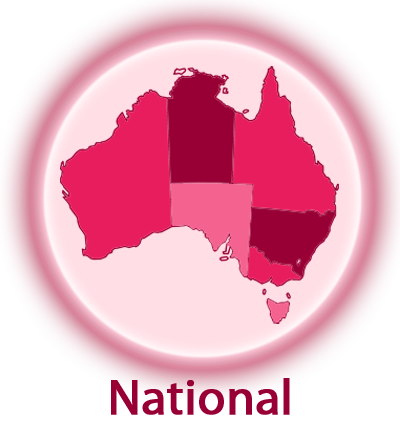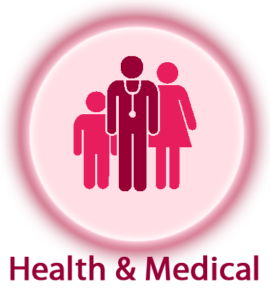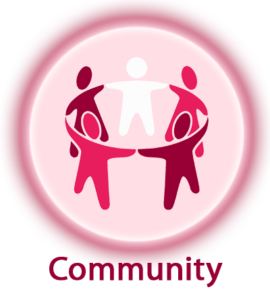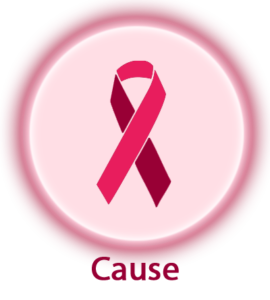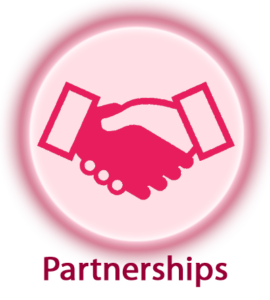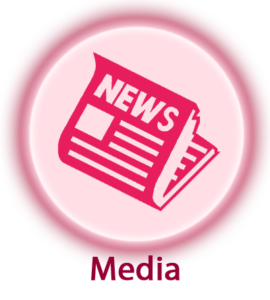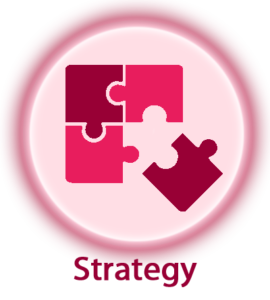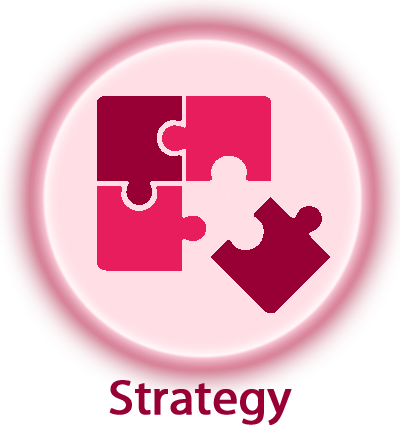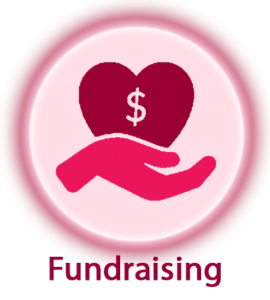 The 11th Hour Campaign – Ovarian Cancer Awareness Month
In 2010, the statistics revealed that every 11 hours one Australian woman will die of ovarian cancer and 1 in 77 women will develop ovarian cancer in their lifetime. With breast cancer having a strong presence throughout Australia and with other significant women's cancers having limited profile,  when Insight was approached by Ovarian Cancer Australia (OCA) in December 2009 inviting us to conduct a national awareness campaign launching on February 1st, we jumped at the opportunity to do something significant for women diagnosed with this terrible and often deadly disease. 
Despite the challenges, Insight created a unique media opportunity launching our 11th Hour Campaign with an Australia Day message to all Australian women – learn the symptoms of ovarian cancer today, don't leave it 'til the 11th Hour! The campaign exceeded OCA's previous campaign media coverage by as much as 2683%, telephone enquiries were up by 1567% and website visits increased by 267%.
Insight's  multi-award winning 11th Hour Campaign delivered Australia's first highly successful national Ovarian Cancer Awareness Month campaign increasing national awareness of the symptoms of the disease,  generating funds to support the work of Ovarian Cancer Australia and importantly,  delivered national brand awareness for our client. 
Background
Objectives
To raise awareness of ovarian cancer symptoms
Generate widespread brand awareness about ovarian cancer and Ovarian Cancer Australia
Increase Teal Ribbon sales and fundraising outcomes to fund programs and support services
Challenges
Short lead time incorporating Christmas period
Limited budget and resources
Limited case studies
Results
Successful
 Outcomes
Media Pieces: 644 – increase on 2009 by 2683%
Online Mentions: 233 – increase on 2009 by 2230%
Teal Ribbon Sales: increase on 2009 by 26%
Donations: increase on 2009 by 114%
Telephone Enquiries: 1567% increase to 100+ calls per day
Website Statistics

Visits: 267% increase
Unique Website Visitors: 304%
Page Views: 162% increase
Australian Locations: 149% increase
Symptoms Page: 405% increase
Access Via Mobile Phone: 1172 people used their mobile phone to access the website – there were no mobile visits in 2009
The top 3 referring websites came as a result of media articles generated by Insight on SMH Online (1,468), The Age Online (747) and ABC Online (263)
Awards
AWARDS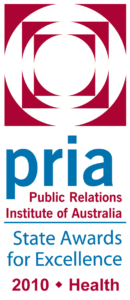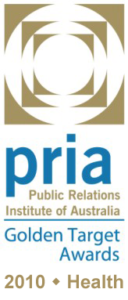 2010 – PRIA NATIONAL GOLDEN TARGET AWARDS
11th Hour Campaign: Ovarian Cancer Australia – Commended – Health Organisations
2010 – PRIA NSW AWARDS FOR EXCELLENCE
11th Hour Campaign: Ovarian Cancer Australia – Highly Commended – Health Organisations
Testimonials
Testimonials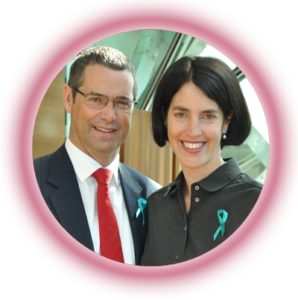 OVARIAN CANCER AUSTRALIA – 2010 & 2011
Ovarian Cancer Australia engaged Insight Communications to manage our 2010 and 2011 Ovarian Cancer Awareness Month campaigns to raise awareness of the symptoms of ovarian cancer and build the profile of our organisation.
Insight's unfailing energy and enthusiasm for the cause is reflected in the unprecedented results they achieved in both campaigns including national and regional television, major metropolitan and regional press, national radio and substantial coverage in national and trade magazines.
Building on their multi-award winning 11th Hour Campaign (2010) that increased media coverage by more than 2500%, in 2011, even when faced with consecutive national natural disasters, the coverage Insight achieved was once again a reflection of their hard work and dedication exceeding expectations with a substantial increase in media coverage on the 2010 results.
In addition to managing our media campaigns, Insight provided strategic communication advice and expertise across all mediums including online and developed our new national fundraising initiatives "Touch of Teal" and "Afternoon Teal" events, which have become very successful.
Insight's expertise was also integral in bringing on board a significant number of celebrity and community ambassadors as well as developing partnerships with corporate and community groups in every state and territory enabling Ovarian Cancer Australia to develop relationships that we hope will deliver long-term benefits to our organisation.
Additionally, Insight's creative concepts were not only limited to securing media coverage and business development through partnerships and fundraising initiatives. They expertly managed multiple national events including the national Australia Day health announcement held in every state and territory and the history making lighting of the Sydney Opera House teal, which was a significant logistical undertaking, and which they managed with creativity, style and professionalism.
In just 14 months, Insight played a significant role in building Ovarian Cancer Australia's national profile while attracting community, corporate and media interest and support for awareness of ovarian cancer, nationally.
Paula Benson, Chair, Ovarian Cancer Australia, 2011
JEAN KITTSON – AMBASSADOR OVARIAN CANCER AWARENESS MONTH 2010 & 2011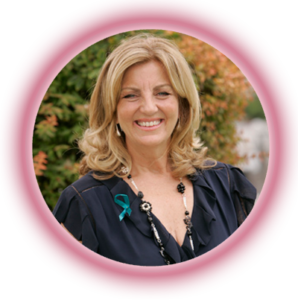 Thank you so much for the brilliant job you did for the Ovarian Cancer Awareness Campaign. As Ambassador for the Awareness Month, I can't thank you enough for the care and consideration with which you organised my responsibilities. I have done a number of campaigns for different organisations but I have never experienced such considerate and comprehensive support. Also, your absolute professionalism in handling the media and myself so impeccably. And your attention to every detail…
It's the small things that really count when getting such an important and often emotional message across, particularly when you are also often relying on the good will of volunteers. You always made sure everyone was properly thanked and that their contribution was of value and appreciated. You are awesome!
Videos
Community Service Announcement